This is a sponsored post in partnership with Lowe's. All opinions and experiences are my own.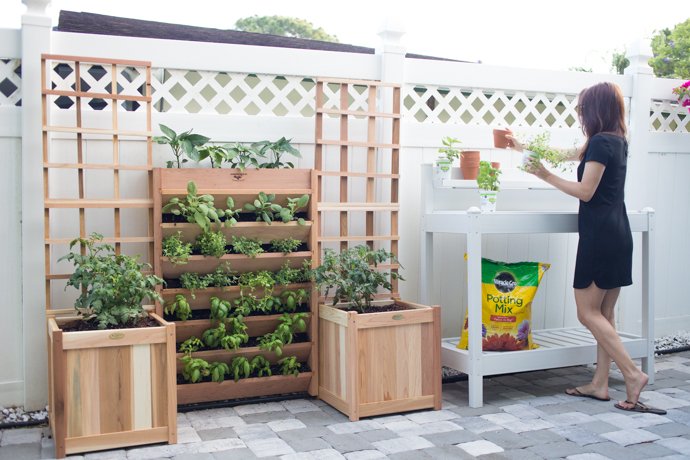 There's something about sunshine and warm weather that has me thinking about the garden. When the spring and summer rolls around, I am always so excited to enjoy all of the bright, fresh produce that is in abundance. When we moved into our house a few years ago, one of the first projects Justin and I took on was building a garden. We've had a number of different structures we've put together over time. We made a vertical garden out of stairs, we've planted a garden in the ground, and we've even made our own aeroponic garden. Each of these structures had their benefits, but a little change came to our backyard in the fall last year. Justin and I took the area where our garden was located and put in pavers for a small patio area. It looks amazing, but it was missing something. So, I was extremely excited to partner with Lowe's on a project to create a DIY vertical pizza garden for our small patio space!
Pizza garden, you ask? Yep. If you know anything about me, you know that pizza is my #1 all time favorite food. I'm pretty sure I haven't gone more than a week without having pizza in many years now. When it came to deciding what kinds of plants I'd like to grow in a new garden space, the choice was easy. I wanted to grow pizza!
Ok ok – pizza doesn't grow on a plant. But gosh, I'd be so excited if it did. But – the ingredients do! I thought it would be perfect for us to grow some of the main ingredients we use to top our beloved pizzas with – tomatoes, peppers, basil, oregano, and sage! All I needed was the perfect structure for them to grow in!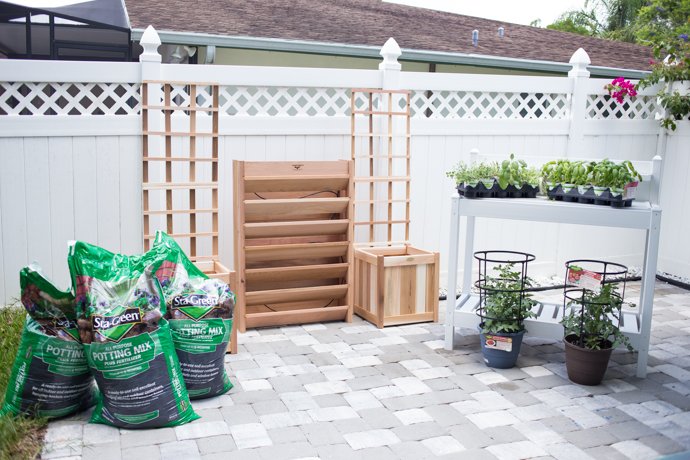 When it was time to find supplies to build a DIY vertical pizza garden, Lowe's had SO many amazing options to choose from. I ended up selecting some cedar planter pieces that I knew I could put together for one cohesive pizza garden of goodness! In addition, I wanted to set up a potting bench in the area so I can tend to my plants (and maybe even spend some time on my succulent garden there as well)!
The main pieces I purchased to create the garden are:
Additional items required:
Potting mix
Herbs, vegetables, etc.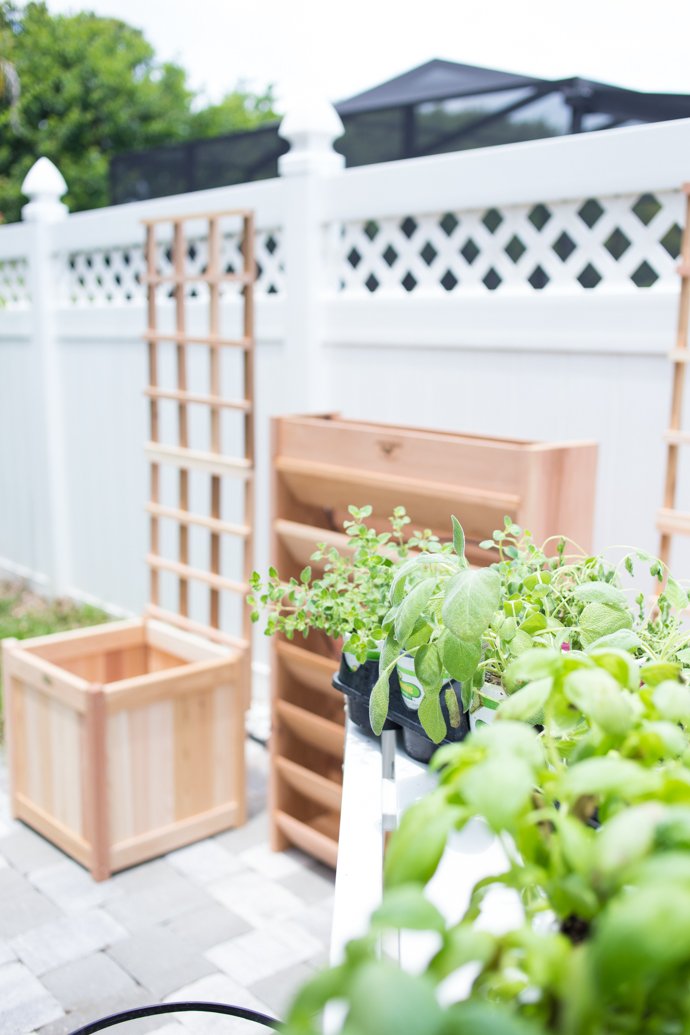 One of the great things about this vertical pizza garden project was that it only took one day to complete from start to finish! Justin and I worked together to construct the planter boxes/trellis pieces, and the Gronomics vertical garden arrived already assembled! It took two of us to put together my potting bench as well. All of these pieces were easy to assemble: we only needed a hammer, a drill/screwdriver (I would recommend a drill), a tape measure, and some time to put everything together!
Once the large pieces were put together, we were ready to get the plants in place! The Gronomics vertical garden has 6 tiers, as well as an open top where you can plant an additional row of herbs/vegetables. As you can also see, there is a black tube that runs through the middle of the planter. It is a self watering box, which is amazing! There is an attachment on the side for a hose to be connected to the box. We even set ours up with a timer so the garden box gets watered every day even if we aren't home!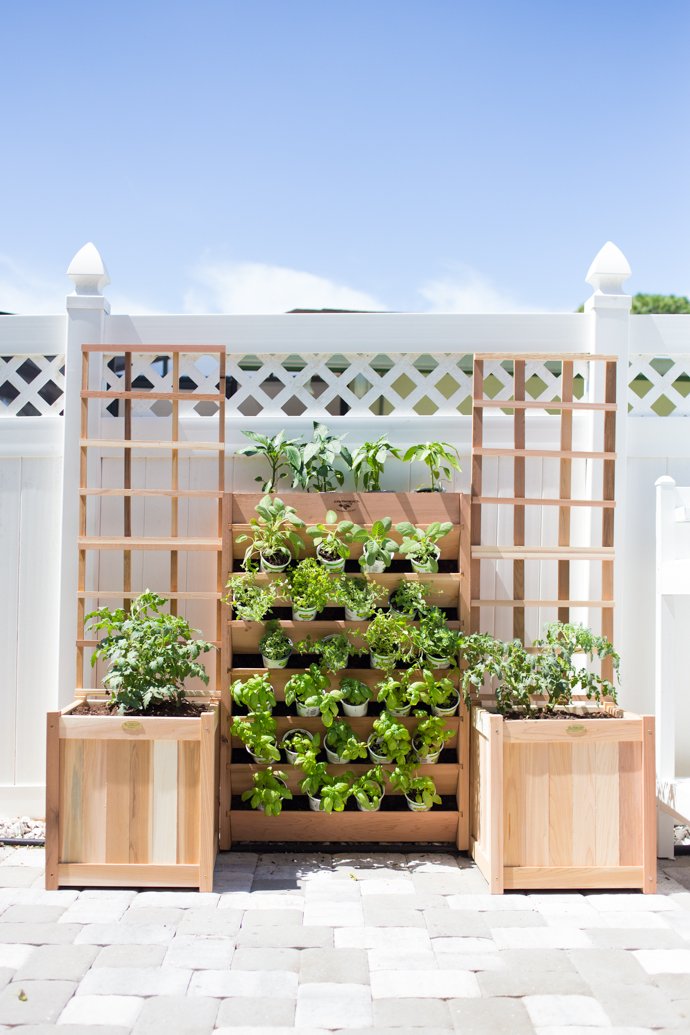 When we had the planters placed where we liked them, we filled them with soil and started placing the plants. I always recommend placing plants in place in their pots before getting started with planting. In doing so, you can visualize what the final product will look like and rearrange if necessary. I actually started with the basil on the top rows and ended up changing my mind when I saw all of the pots placed in the box together. I planted the peppers on the top, followed by sage, oregano, and basil. The tomatoes were planted in the All Things Cedar Garden Trellis pieces to frame the sides of the vertical planter box. Of course, our plants are still in baby stages at this point, so I will be very excited to see how the garden fills out as they mature. We plan to guide the tomato vines up the trellis to support them.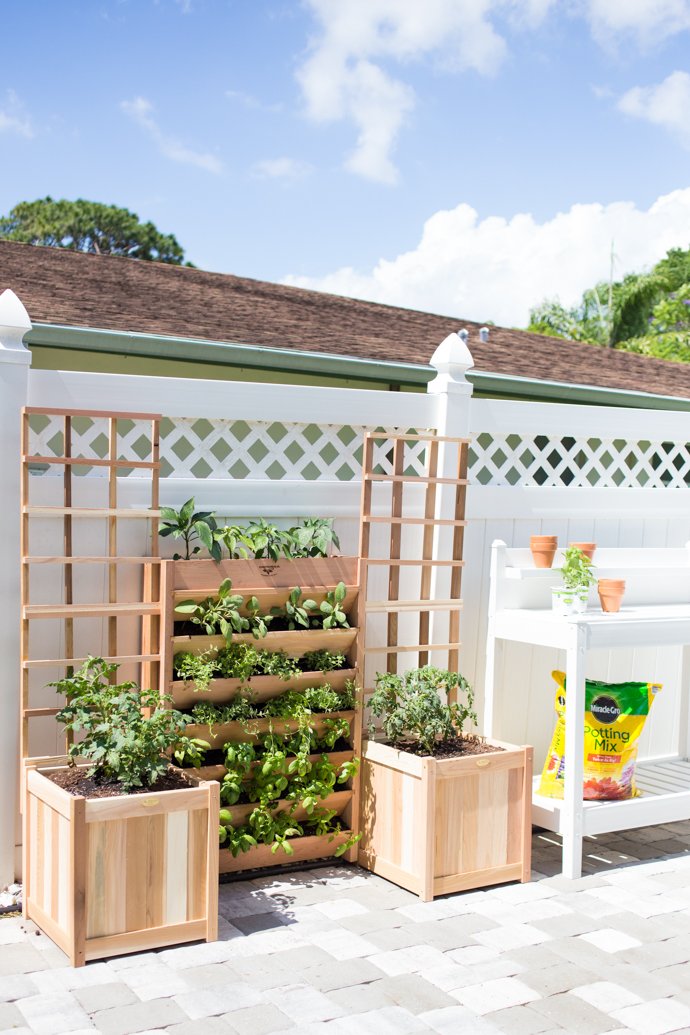 Of course, we can't forget about my potting bench! It's new home is right next to the vertical pizza garden. I have been craving a working station for the garden area, and this one is perfect. The height is great, and the PVC and vinyl makes it easy to clean – I can simply hose it all down when it gets dirty. My previous potting bench was made of wood and was not as simple to clean up after – I'm excited to have this change!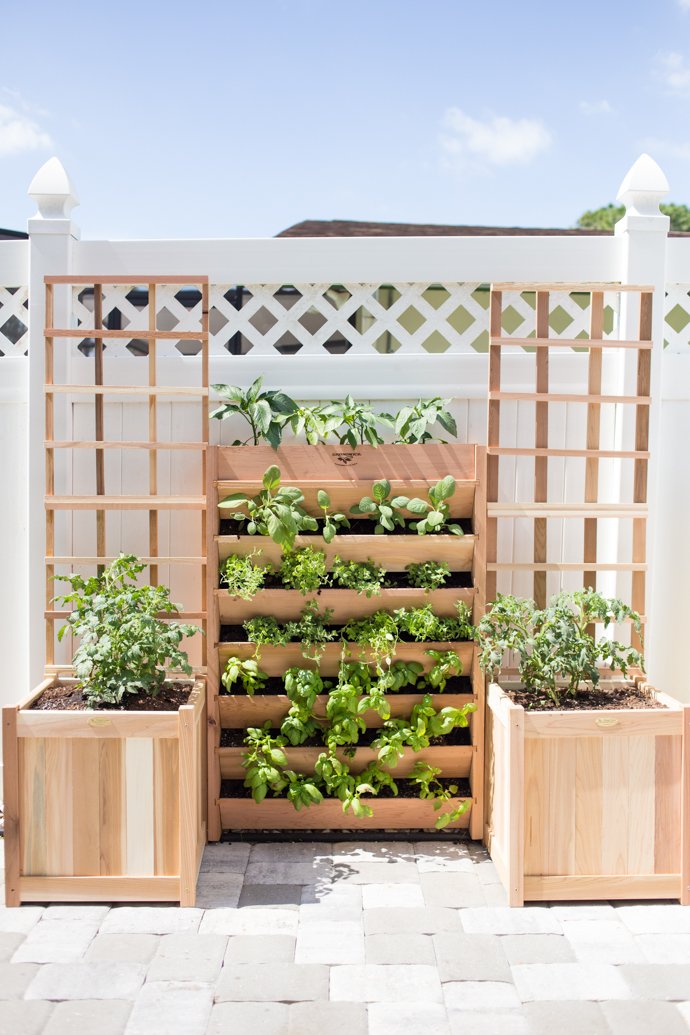 Now that my new DIY vertical pizza garden is up and running, I think it's about time for a backyard pizza party. Am I right, or am I right??? I can just taste the goodness now!
Thanks again to Lowe's for partnering on this project!

Would you also like to have a DIY vertical pizza garden in your backyard? If you like to garden, what are your favorite things to grow?