Samosa Baked Potatoes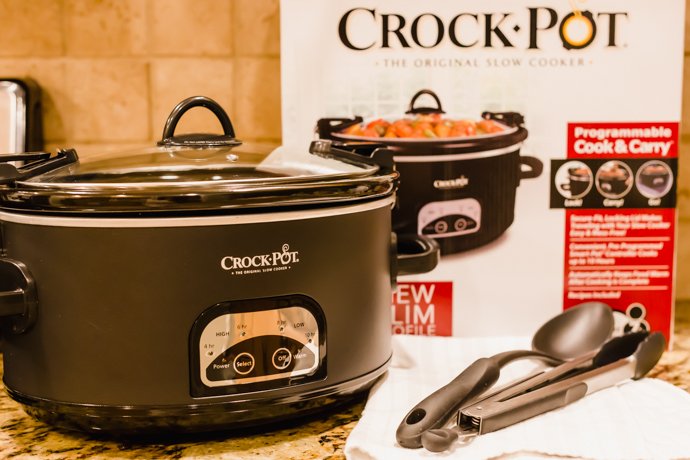 For the potatoes:
6 russet baking potatoes, medium sized
2 teaspoons cumin
¾ teaspoon fennel
1 teaspoon ground coriander
1 cup green peas
½ teaspoon garam masala
¼ teaspoon red chili powder
1 teaspoon salt, or to taste
For the cucumber raita:
1 cup plain Greek yogurt
½ medium cucumber, peeled, seeded, and finely chopped
2 green onions, thinly sliced
¼ cup chopped fresh cilantro
1 teaspoon ground cumin
½ teaspoon ground ginger
To start, scrub the potatoes and rinse thoroughly. Pierce each multiple times with the tines of a fork. Mix 2-3 tablespoons of olive oil in a small bowl with salt and pepper. Brush the potatoes with the olive oil mixture and wrap each individually in aluminum foil
Add wrapped potatoes to the Crock-Pot® Cook & Carry™ Slow Cooker. Cook on high for 4 hours. When complete, remove lid and allow potatoes to cool until you're able to handle them.
As the potatoes cook, make the cucumber raita. Combine the yogurt, cucumber, onion, cilantro, cumin, and ginger in a bowl. Add salt and pepper to taste. Refrigerate for at least 1 hour before serving.
When the potatoes are cooked, unwrap them and split lengthwise. Scoop about ⅔ of the inside of the potatoes into a bowl, leaving some of the potato inside of the skin.
Meanwhile, heat about 2 tablespoons of oil in a pan on medium heat. Once the oil is hot, add potatoes and peas. Sauté for 2-3 minutes until warm.
Add the fennel, coriander powder, garam masala, and red chili powder. Add salt to taste. Gently mash the contents of the pan together with a masher or a fork. I like to leave some chunks intact!
Carefully fill the split open potato skins with the seasoned potato and pea mixture. You can serve immediately, or place the potatoes back into the Crock-Pot® Cook & Carry™ Slow Cooker on the Warm setting to keep them warm until ready to serve!